HiX is the newest version of our EHR solution. It is a comprehensive, state-of-the-art, Microsoft-based, fully integrated, and innovative solution that is extremely flexible and configurable. All functionalities are developed in-house, placed in the same technical layer and use the same single clinical data repository. HiX enables us to support the most complex healthcare processes and remain highly efficient by reusing information and functionalities across the entire application.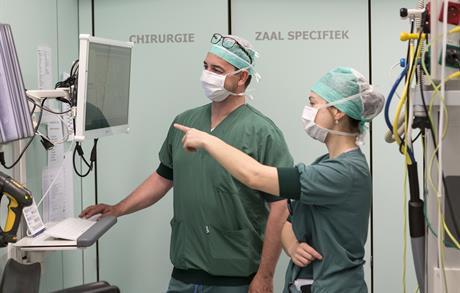 Single institution or entire continuum of care
We provide an innovative, fully integrated EHR solution: HiX. HiX is extremely flexible and configurable. Within this comprehensive solution, all functionalities are placed in the same technical layer and they utilize a single clinical data repository. This enables us to support the most complex health care processes and remain highly efficient by reusing information and functionalities across the fully integrated application. HiX optimises workflows, increases patient safety and control, minimises the workload for healthcare professionals, and ensures data exchange or interoperability in the technically most advanced and safe environment.

The diagram below contains just some of the components that are available in the fully integrated and comprehensive EHR solution.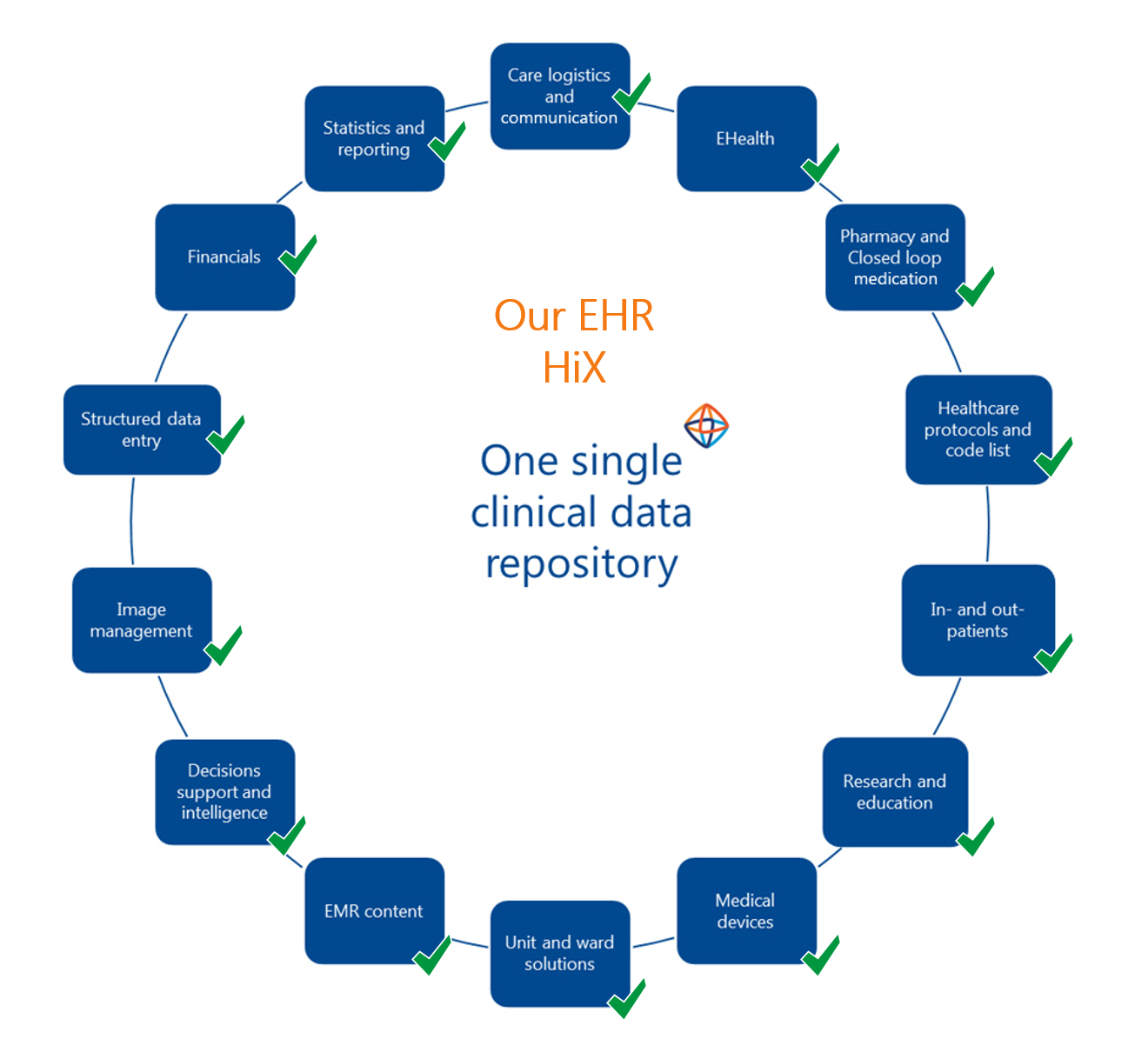 Our EHR system, better known as HiX, optimises workflows, increases patient safety and control over the care process. It also minimises the workload for healthcare professionals, and ensures data sharing in our technically most advanced and safe environment.
HiX can be deployed in a single healthcare institution or within the entire continuum of care, in a multi-location setting including specialised care, nursing homes, primary care, social care, mental care, etc. Thanks to the flexibility and the cutting-edge technology of HiX, most of our clients have reached at minimum the 'stage 6' EMR Adoption Model by HIMSS Analytics Europe (HAE). This places us at the top of modern and advanced EHR solution providers.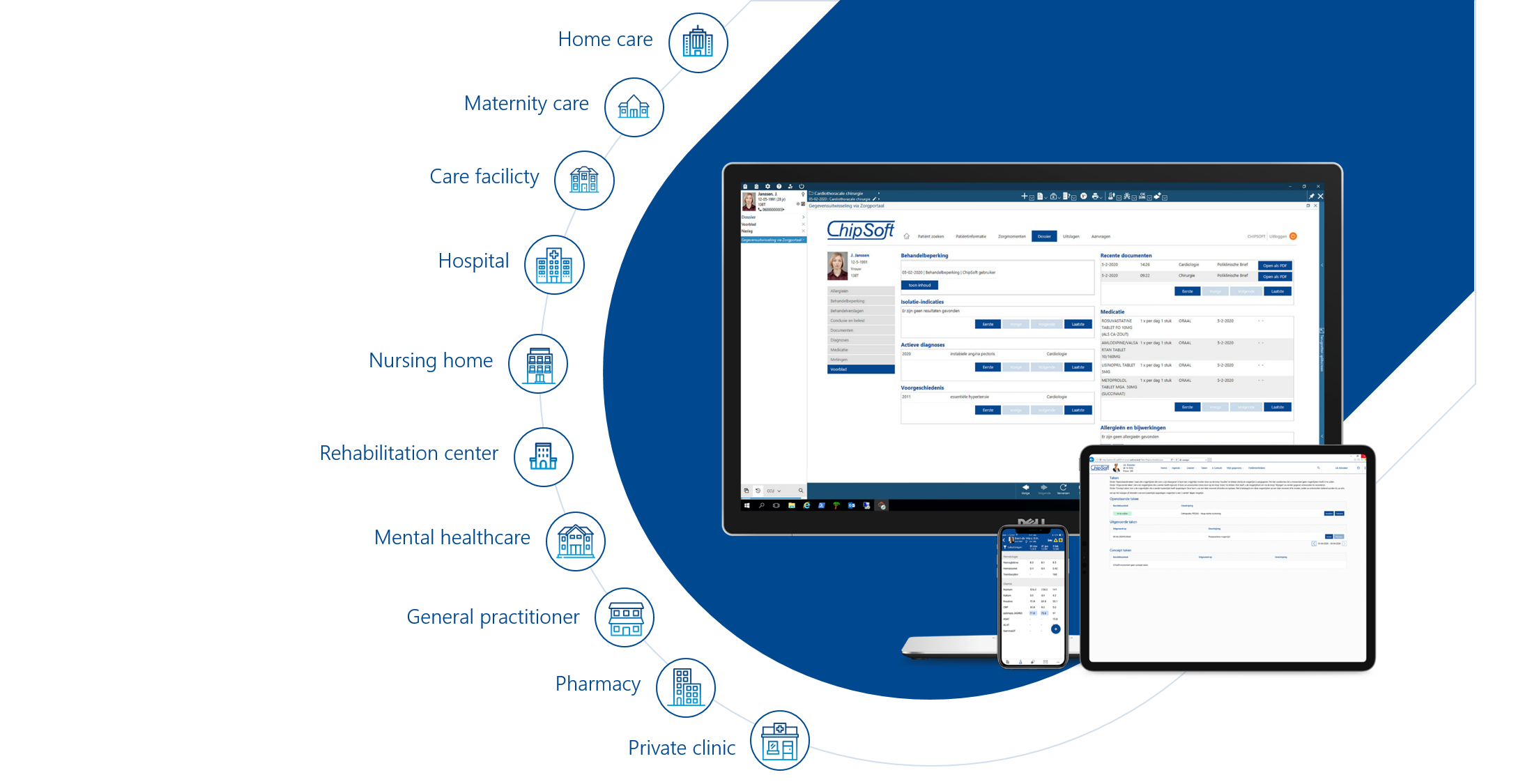 HiX: the EHR-systems that provides support and solutions for any healthcare organisation.

Increase efficiency and reduce workloads
Standard open content, or pre-configured content, consists of any and all conceivable content for the best possible EHR. This varies from reporting possibilities to complete order workflows, specialist questionnaires, score lists, built-in guidelines, decision support, image management, widgets, and interfacing capabilities to realise both mandatory and non-mandatory data exports. HiX offers this content in a structured manner, which not only improves access to the content, but also facilitates its implementation and configuration. Moreover, it is possible to exchange data with other healthcare institutions in a structured way. Using standard open content ensures that your organisation uses proven solutions and that your systems are always up to date with the latest in healthcare IT developments.

Certificates of excellence
Ever since we were founded in 1986, there has been a strong focus on quality and patient safety. Our software currently meets both national and international standards, which serves as proof of this commitment and focus. A good example of this is that we are ISO 13485 certified and that the complete solution is CE marked as a class IIb device in compliance with the Medical Device Directive 93/42/EEC.

HiX has a focus on technology as well as functionality.

HiX Digital Health Services
HiX Digital Health Services is a secure service that offers comprehensive support for transmural cooperation and operability in healthcare. HiX Digital Health Services supports patient referrals and transfers, shared care, monitoring each other's patients, receiving them for consultations, and healthcare at a distance.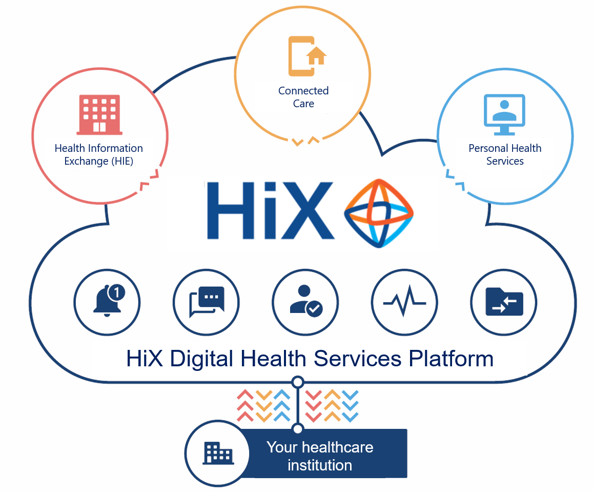 HiX Digital Health Services offers every healthcare institution the possibility of exchanging information among other healthcare institutions, eHealth applications andpatients. tekst.
Continuous development
To prevent problems that typically arise from using outdated or 'legacy' technologies, we applie a quite resolute 'technology refresh policy'. By continuously 'refreshing and improving' the technologies that form the foundation of HiX, while at the same time complying with the Microsoft support lifecycle, we ensure future-proof ease of integration into the existing IT landscape. This technology refresh policy is an ongoing process and is going hand in hand with the continuous development of more innovative functionalities.

In cooperation with our clients and our vision of future market requirements, we continue to develop HiX to fit all healthcare environments and work processes as best as possible. Our dedicated usability team is involved from the early steps of development until deep into the implementation process to ensure optimal usability and user satisfaction.
Anytime, anyplace, anywhere, any device

HiX is user-profile based, meaning that the advanced authorisation structure enables you to create specific displays for each role; guaranteeing patient privacy while optimally supporting the work process of each healthcare professional; reducing clinical errors by presenting only the most relevant patient information, and; increasing efficiency by ensuring that all patient information is available at all times and needs to be registered only once.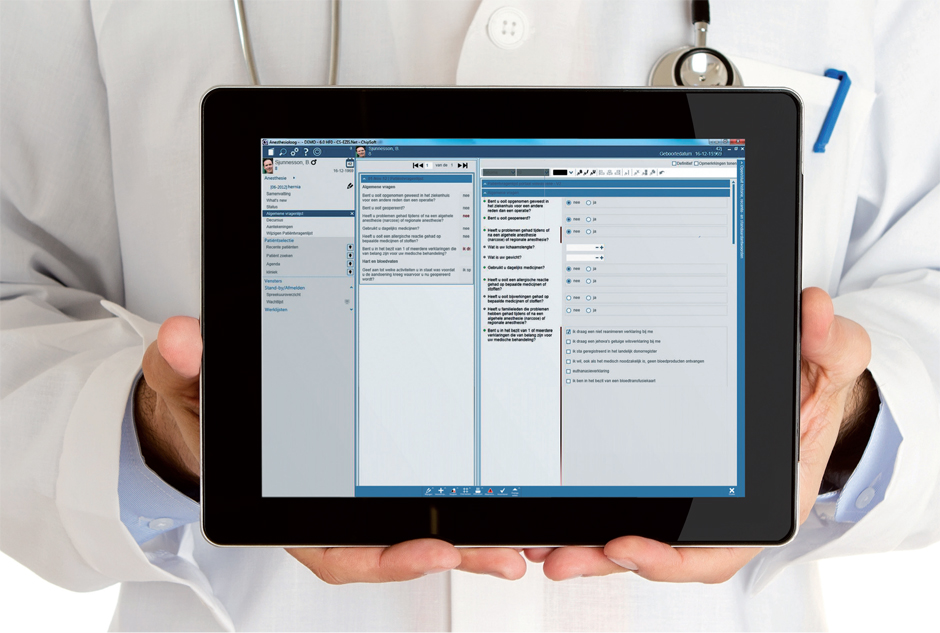 Continuum of Care
With the fully integrated HiX, we aim to support healthcare providers across the entire continuum to optimise patient safety, workflows and cross-continuum pathways. Patients can now move more freely between care providers knowing that their medical data is accessible regardless of time, place, or care provider. HiX provides a wide array of functionalities and workflow support for acute care, nursing homes, private clinics, mental healthcare, maternity care, rehabilitation, and home care. Furthermore, we have taken steps to develop and add functionalities to HiX to bring the entire continuum of care together in one solution. Therefore, we have developed functionalities for community pharmacies as well as for general practitioners. By bringing together all necessary functionalities under a single 'umbrella' – HiX – we are actively contributing to and working towards improving the provision of healthcare of various communities.

Full integration
To prevent problems that typically Placing all functionalities within the same technical layer and utilising a single clinical data repository, ensures full integration of HiX. In HiX there is only one record per patient where all information is entered and saved. Therefore, it is possible to share and reuse the information across the healthcare institution or along the continuum of care. For example, information regarding smoking and use of alcohol is entered in the system only once. From then on, this information is visible for and available to all other users as well. This reduces the workload and the number of entries. In the same way, a patient's prescriptions are available to all health care professionals such as clinicians, nurses, and pharmacists. Within HiX, the patient has one central medication list where all possible changes are directly entered. This ensures that the medication list is up-to-date at all times, including during transfers. Due to this single medication list, HiX supports the closed-loop medication process and contributes greatly to medication safety within your organisation. The full integration of HiX and continuity of data translate into higher efficiency and patient safety.

Role-based views
The role-based views in HiX create structure in a possible overload of information. HiX's full integration allows it to display information such as results, diagnoses, allergies, medication, etc in a well-organised manner. This is information that is shown to all users at all times. Furthermore, HiX supports all specialties with specific content, which includes templates, order sets, score lists, workflows etcetera. The role-based views support the workflow of the clinicians optimally as they are only presented with functionalities that they need for their role or specialty. HiX, determines, based on the user's authorisations, which information and functionalities are relevant for the specific user to display. Each user is provided with a view of the patient's record that supports their specific workflow. This enables the care providers to always be able to provide efficient and high-quality service to their patients - regardless of time and location.

Highest user satisfaction
To prevent problems that typically Since HiX is a single, fully integrated system, it has a uniform user interface. Therefore, the layout is similar for all users within the solution. This allows users to learn where information and functionalities are located and can be accessed. We focus greatly on user experience and finds it of great importance that the users are able to define and make choices that support their personal preferences. In HiX, healthcare professionals are able to, for example, modify the quick-access menu, create favourites, create frequently used medication protocols, etcetera.

HiX product portfolio
HiX consists of general modules that can be used across the entire EHR to support all workflows and processes. These modules make the system highly flexible as they can easily be modified and adjusted to various processes. Among the modules are those concerned with CPOE, medication, workflow support, decision support, reporting, and many others. Additionally, HiX offers specific functionalities to support specific workflows of certain departments such as the pharmacy, dialysis centre, radiology, etcetera.

A list of other examples of modules and functionalities in HiX is provided below:

Patient administration
Inpatient and outpatient scheduling
Clinical pathways
Admissions and OR scheduling
ICU, Emergency Department, Obstetrics, Oncology, etc.
Nursing record
Graphic interactive floor plans
Web portal for patients and care providers
Content and functionalities for medical records for nearly all specialties (50+)
Rehabilitation and therapy services
Sterile services department
Mental healthcare
And many more…
Benefits
Not only the patient, but also the healthcare professionals and the organisation as a whole will get a great number of advantages when you implement HiX. The list below contains just some of the benefits you will receive by implementing HiX.


Improving the quality of care:
Completeness of information

Coherent working methods
Availability of complete medical history
Reducing the number of clinical errors
Specific warning and alerting possibilities
Multi-disciplinary documentation possibilities

Controlling and monitoring the status of various examinations
Better management due to clear business intelligence
Improving productivity:

Direct availability of relevant data

User-friendliness
Direct communication with colleagues
More efficient handovers
Single entry of data

Reducing costs:

Efficient flow of treatment processes
Reducing the number of unnecessary tests by active alerts
Reducing administration costs
Less space needed for archiving and hence reducing the number of archiving resources

Advantages for patients:

Streamlined treatments
Efficient working processes translate into more time for the patient
All information about a patient is available
No unnecessary or duplicate questions after referral
Patient's privacy is guaranteed


For more information, please do not hesitate to contact us by email or by calling +31 20 493 9000.
E-mail us!